Granite Worx continues to be a progressive leader in stone fabrication with state of the art Abrasive Waterjet cutting systems, CNC profilers and cutting machines which allow more opportunity for the Architect/Designer/Builder in creating designs and products never before available in stone. Our investments in fully computerized machinery has consistently increased our productivity without any compromise in quality. While our stones are still hand detailed, technology has in fact helped us perfect the overall quality of the end product.
Our world-class stone fabrication equipment includes the following
Bridge Saw Cutting Machines
Straight Edge Polishing Machines
CNC (Computer Numerical Control) Machines
Computerized cutting system with waterjet
Automated elevator storage system
Design & Estimate
Schedule an appointment, stop by our showroom or use our online quote system. We will provide you with an estimate that includes all measurements, material cost, fabrication and installation. We will make any necessary price adjustments if anything changes.
We have experienced designers to assist you in selecting the material and colour.
Pick a sink. The dimension of your sink and every new appliance must be known prior to installing the countertop.
Consider a backsplash. The standard height of a backsplash is 4 inches but they can be made higher. A tall backsplash is sometimes used behind the kitchen range or sinks to protect the wall from grease and other stains. Some customers choose a full backsplash.
Template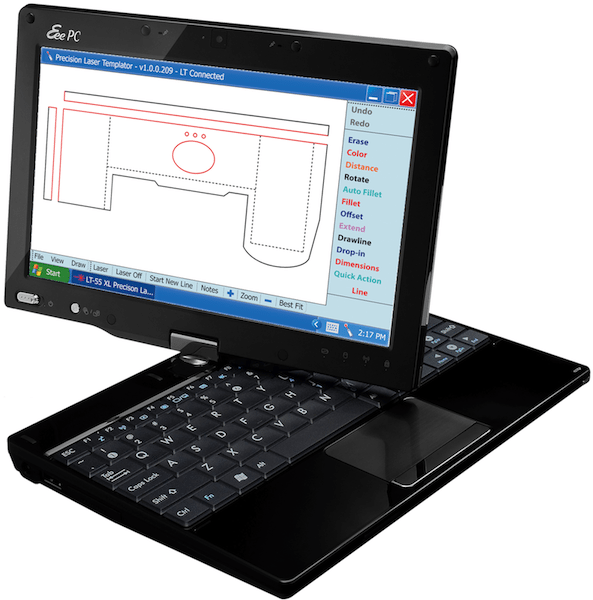 A template for your job is completed by our precision templators, who will visit your home and take exact measurements of the space. They will survey the area in regard to positioning of entrances and narrow hallways. This will assist us when plotting the stone and allow them to verify if your counter need seams or if it can be completed in whole sections. We ask that at this time customers provide us with the template for their sink (if it isn't purchased through us) as well as information about the faucet that will be used.
Production & Fabrication
When the template has been completed the measurements and drawings will be used to cut the design out of the slab you have chosen. Once the design has been cut, our fabricators will use hand tools to finish the edge profile specified by you and cut and finish the sink hole with the template given or specified.  After a quality control inspection, the stone is ready to be installed in your home.
Installation
All countertop installations are done by our professional installers. We install the countertops, mount the sink to the counter, drill the hole(s) for the faucet on site (please make sure you have a faucet at the day of installation), drill the hole for a cooktop on site (if you have one) and seal the granite/marble/limestone as a final step. In case of exchanging countertops, old tops must be removed before the installation. We offer a referral service to a general contractor that will remove and dispose of old tops at an additional charge.